Posted: April 15th, 2018 | Author: admin | Filed under: General, QR Codes Use Cases | 6 Comments »
Our free Google Maps QR codes allow quick and easy access to a Google Maps address or location by simply scanning a QR code. Whether it's about reaching a destination, locating a business, or highlighting an attraction or point of interest, our Google Maps QR codes will help your visitors, customers or friends find you.
How To Create A Google Maps QR Code
Create a Google Maps QR code that will help your customers find your business or event, highlight the location of a tourist attraction or point of interest, or even show your friends how get to your party. Just enter the location and a QR code-connected map will be automatically created for you.
Go QRStuff.com and select "Google Maps Location" as your data type in Column 1.
In Column 2 specify where the location or address marker is to be displayed on the Google Map, with two modes available:

If you select "Address", a text box is provided for you to enter the actual street address – type the address and click "Go".
Selecting "Pin Location" gives you the option of entering the latitude and longitude of a location, or dragging the pin marker to a particular point on the map.

Choose your map type – Map or Satellite
Select the foreground colour for your QR code in Column 3. If you're a paid subscriber you will also be able to set the image size, resolution, output file type (PNG, JPG, TIF, EPS, SVG, PDF or DXF ), and error correction level.
Click the "Download QR Code" button and your Google Maps QR code is done.
PRO TIP:
To make sure that the address you enter into your QR code is correctly formatted (to minimise the possibility that the marker might be put in the wrong place) go to Google Maps first, locate the required address, and then use the Google Maps "Copy Address" feature. Another benefit of using this feature to make sure that the address is exactly the same as the one Google Maps use is, if Google Maps is aware of a specific business name or point of interest at that location, its name and details will also be displayed as part of the map information.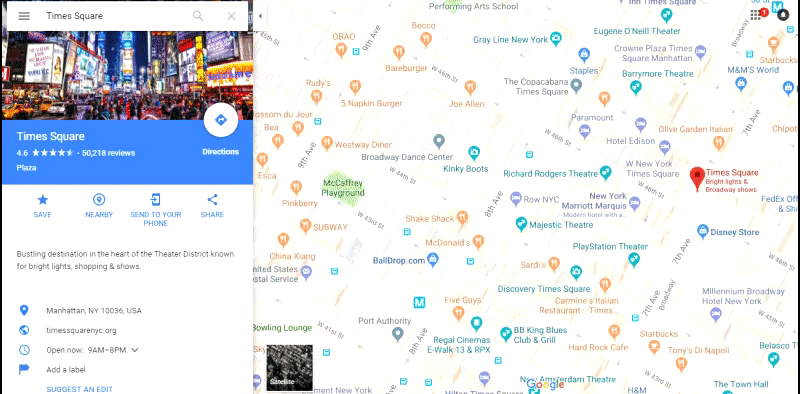 Our Google Maps QR codes are just one of the 23 fully-functional and non-expiring QR code data types that free users can create at www.qrstuff.com with no sign-up or registration required. Paid subscribers also get QR code editing and analytics reporting as part of the paid subscriber feature set.
Scanning Your Google Maps QR Code
When your Google Maps QR code is scanned, an initial page is displayed (depending on the device being used) that gives the user options for displaying the map. Shown below is what iPhone users will see – a choice of viewing the map in the Google Maps app (if installed) or Apple Maps.
The Google Map display will usually also let the user get driving directions from their current location, give a Street View option, and display any additional information that Google Maps is aware of about that location.
While free users can change the foreground colour of their QR code, paid subscribers can also change the appearance of the QR code image, and add a logo or image to it, making your QR code more visually distinctive and intuitive. Read more about our QR Code Styling feature.
---
Subscribers Get More QR Stuff!
Become a QR Stuff paid subscriber and get unlimited QR codes, unlimited scans, analytics reporting, editable dynamic QR codes, high resolution and vector QR code images, batch processing, password-protected QR codes, QR code styling, QR code pausing and scheduling and more, for one low subscription fee.
Full subscriptions start from just $11.95 for a 1 month subscription (lower monthly rates for longer periods) or you can set up a 24 hour trial subscription for $3.95 to check out what we can do for you. Subscribe now.
---