Audio QR codes using the features of Google Drive and
QRStuff.com
are what to be presented in this updated post. QR codes for audio and music are made using
QRStuff.com's
Website URL
data types, similar to what the previous blogs have provided. Scanning the code to listen to your favorite music wherever, whenever you are -- inside the trains, while stuck in traffic or working out is one of the easiest ways to create your own peace. The
Website URL
data type for audio QR codes is among the 23 fully-functional data types that free users can create at 
QRStuff.com
. There is no sign-up or registration required, and users can have access to non-expiring QR code data types. QR Stuff subscribers can utilize additional features such as QR code editing and analytics reporting as part of the 
paid subscriber feature set
.
Using Audio Files For QR Codes Through Google Drive
1. After you have selected the audio file -- the audio or music may be sourced from online providers such as downloads or music sharing applications. Whichever file formats the music or audio are, you can always keep the link and use Google Drive to store them. 2. Make sure that the audio and music files are in your storage or hard drive, for instance in one of your folders within your tablet, PC or mobile. 3. Open Google Drive and click New to upload the music file. Once the audio file has been uploaded to the Drive, right click on the file and select Get Shareable Link. Copy the link provided within the pop-up box. Next up, you'll be guided on generating the
Audio QR code
using QR Stuff.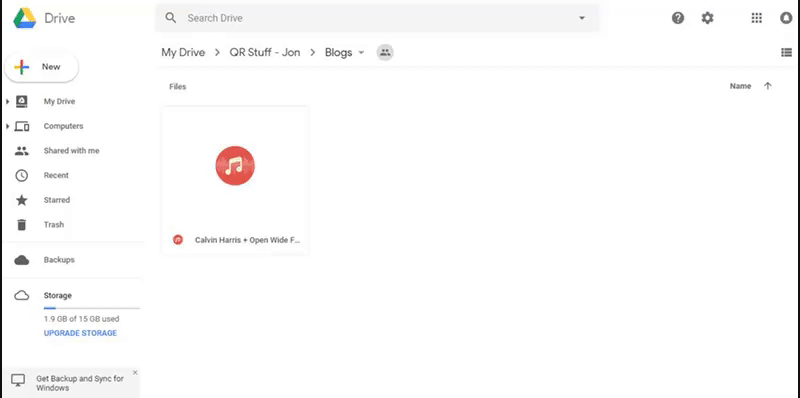 Generating The Audio QR Code
To create your audio QR codes whether for your personal or business needs, it is important that you select recommended QR code generators. QRStuff.com is among these reliable websites, emerging from the consumers and markets around. 1. Go to 
https://www.qrstuff.com/?type=websiteurl
 and have the "Website URL" data type 
pre-selected
 from the Data Type section.
2.
 In Column 2, paste the URL of the audio code to the box provided, as obtained from the previous posts.
3.
 Click the "Download QR Code" button and the QR code for your music is ready for use.
Make It A Bit Fancy
While free users can change the foreground colour of their QR code, paid subscribers have the ability to also change the appearance of QR code image and embed a logo or image in its centre. Just use the steps outlined above to create your Audio QR code, and then, before you download your finished QR code, style your QR code through the Style section to change its appearance. To the right is an example that shows what could be done to the QR code created above using our QR Code Styling feature. Our styling interface allows you to make your QR code more visually distinctive and, by embedding a suitable image, perhaps more intuitive as well. Our previous post on 
QR Code Styling
 will give you more information about how to use this feature.
---
Subscribers Get More QR Stuff
Become a
QR Stuff paid subscriber
and get unlimited QR codes, unlimited scans, analytics reporting, editable 
dynamic QR codes
, high resolution and vector QR code images, 
batch processing
, 
password-protected QR codes
, 
QR code styling
, 
QR code pausing and scheduling
 and more, for one
low subscription fee.
Full subscriptions
start from just $11.95 for a 1-month subscription (lower monthly rates for longer periods). 
Subscribe now
.