Posted: March 6th, 2018 | Author: admin | Filed under: General, QR Codes For Instagram, QR Codes Use Cases | 16 Comments »
Instagram is a photo sharing application launched in October 2010 that allows users to share images and videos publicly or privately with their followers.
Due to its simplicity and ease of use, Instagram is now one of the most popular social media platforms. Many businesses use it as an integral part of marketing their products and services to current and potential customers.
Displaying a QR code linked to your Instagram profile page in your printed marketing materials is a quick and easy way to gain more followers and engage with customers.
How To Create Instagram QR Codes
Fully functional non-expiring Instagram QR codes can be created for free, along with 23 other QR code data types, with no sign-up or registration required.
First, go to https://www.qrstuff.com/?type=instagram and have the "Instagram" data type pre-selected from the Data Type section.                   
In the Content Section, enter the Instagram username of the account you want displayed when your QR code is scanned. To find the username, go to your Instagram profile and click "Edit Profile" above the photo gallery. On the Edit Profile page, the username is shown below the account name (don't include the @ symbol).                                
You can now click the "Download QR Code" button from the QR Code Preview section.
Make It A Bit Fancy
While free users can generate QR codes for website URLs, paid subscribers can enjoy more privileges other than being able to generate QR codes. They have the option to customize their QR code by changing the colors of the dots and corners. They can even insert a relevant image in the center. Aside from that, they can modify the size & resolution, file type, and error correction.
It's easy to customize the QR codes once you're a paid subscriber. Just follow the steps discussed above and click the "Style" section before downloading the QR code. From that section, you can turn your plain QR code to an appealing and distinctive one just like the one above.
Scanning Your Instagram QR Code
As a special built-in feature, when one of our Instagram QR codes is scanned on an Android device, it automatically attempts to identify whether the Instagram app has been installed on the device and, if installed, the Instagram link opens in the Instagram app.
For iPhones, the user is asked whether they wish to open Instagram in the browser on their phone, or in the Instagram app (if the app is installed on their phone).
---
Enjoy Free Features
QR Stuff is free for anyone to use with no sign-up required – create as many fully functional non-expiring free QR codes as you need with no restrictions on commercial use. 23 of our 26 data types can be used for free, and our free QR codes are guaranteed 100% ad-free.
We are also directly integrated with Zazzle, a print-on-demand website, so with a single click free users can add their QR codes to shirts, coffee mugs, caps, business cards, stickers, and more.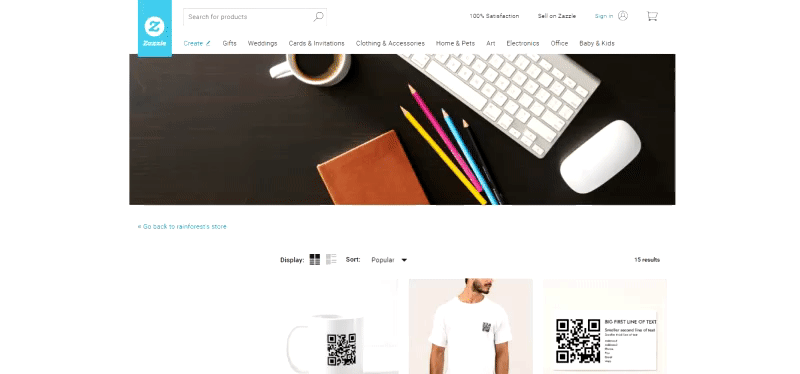 ---
Subscribers Get More QR Stuff!
Become a QR Stuff paid subscriber and get unlimited QR codes, unlimited scans, analytics reporting, editable dynamic QR codes, high resolution and vector QR code images, batch processing, password-protected QR codes, QR code styling, QR code pausing and scheduling and more, for one low subscription fee.
Full subscriptions start from just $11.95 per month (lower monthly rates for longer periods). Subscribe now.
---